Sue's News
June 13, 2008
Bandages big business for Sue's Safety Supply

Bandages big business for Sue's Safety Supply

BY DON MANLEY
dmanley@news-press.com
Sue Paul followed her father's advice when business slowed at her small, medical supply company.
"He just said keep on doing what you're doing and keep it simple," said Paul, owner of Sue's Safety Supplies in Fort
Myers.
The 14-year-old company sells and services first-aid supplies and safety equipment, such as hard hats and fire
extinguishers, for a customer base of businesses and governmental agencies in Lee, Collier and Charlotte counties.
When the economic slump began to hit her company in early 2007, Paul expressed her fears to her father, Larry Paul, Jr.,
a retired business owner.
The number of customers has remained virtually unchanged, at about 800, including WCI Communities, the Lee County Sheriff's Office, Sam Galloway Ford and The News-Press. But the slowdown has dragged down sales.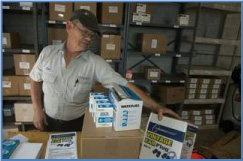 "Our existing customers' work forces are down, therefore their usage of our products is down," Paul said. "If they had 300
employees, now they have 40, so they're using fewer supplies."
Competition has increased with the downturn as customers who'd previously simply ordered new supplies when needed,
now monitor spending more closely and solicit bids from other companies for the items.
"I tell people, we may not be your least expensive quoter, but we are all about service, service, service, at a competitive
price," she said.
Sales declined by roughly 10 percent from 2006 to 2007, but Paul is thankful for the loyalty of longtime customers and that
the drop-off wasn't larger.
"I'm grateful for where we're at, but I'd be lying if I said I wasn't concerned about the future," she said. "We have to be
proactive. We can't let up."
A resident of Sanibel, Paul, 50, runs a lean operation, with one delivery truck and a staff of three who operate from offices
and a warehouse, located off Metro Parkway.
Paul said a cautious business approach has helped the company weather the economic turbulence.
"We stayed small and tight and efficient all along," she said. "My old minister said, expect the best and plan for the worst
and I planned for the worst by not going crazy. I could have made more money during the heyday if I'd have put five trucks
on the road. Because I kept it small, the company has zero debt and that's a pretty nice condition to be in when times are
tough."
It was chance that led her to enter the business.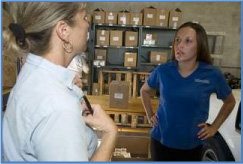 Paul and her late mother, Deborah, owned the former Woody's Health Foods store, on Sanibel, for seven years before
selling it in 1992. A few months later, a neighbor mentioned her to the owner of a local medical supply company, Doctor's
Orders. She accepted his invitation to start a first aid and safety division for the company and two years later, she
purchased it and gave the spin-off a new name.
The company also provides customers with access to its video library for employee safety meetings and free safety
briefings when a new first-aid kit is installed.
Those extra services mean a lot, said Eric Schmitzer, human resources director of North Fort Myers-based Raymond
Electric, a customer for about six years.
"She's a good business partner, without a doubt," he said. "It's a vendor that you don't have to worry about."
Dirk Atherton, owner of the Iguana Mia restaurant chain, says Sue's Safety Supplies offers something he can't get by
purchasing medical supplies online.
"It comes down to the personal service," he said. "They come in and really make sure we have what we need to take care
of our employees."
A slower pace has allowed Paul to invest time in product-line expansion by adding defibrillators.
"That's one way we're thinking outside the box a little bit," she said "It's something we didn't have time for before because
we had so much (business) coming in."Â