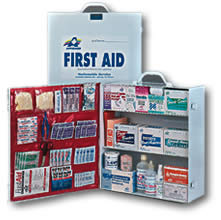 Cabinets
Our extensive line of first aid kits and cabinets provide a wide variety of products designed to maximize productivity and eliminate downtime due to minor accidents and employee discomfort.
Your Affirmed representative can assist you in finding an ideal location for your cabinet and train your employees how to properly use the items.
Each cabinet contains premium quality products designed to take care of deep cuts, abrasions, eye injuries, burn, and other common workplace injuries.
All are wall-mountable and meets or exceeds OSHA requirements and ANSI Z308.1-2003